While I'm unfortunately behind on reading The Improbability of Love as I got it so late from my library, as well as struggling to get through it, I figured I should put up my choices of books anyways.
1. Hild by Nicola Griffith
Hild is born into a world in transition. In seventh-century Britain, small kingdoms are merging, usually violently. A new religion is coming ashore; the old gods' priests are worrying. Edwin of Northumbria plots to become overking of the Angles, ruthlessly using every tool at his disposal: blood, bribery, belief.
Hild is the king's youngest niece. She has the powerful curiosity of a bright child, a will of adamant, and a way of seeing the world—of studying nature, of matching cause with effect, of observing human nature and predicting what will happen next—that can seem uncanny, even supernatural, to those around her. She establishes herself as the king's seer. And she is indispensable—until she should ever lead the king astray. The stakes are life and death: for Hild, her family, her loved ones, and the increasing numbers who seek the protection of the strange girl who can read the world and see the future.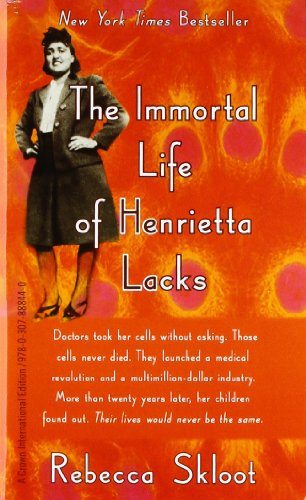 2. The Immortal Life of Henrietta Lacks by Rebecca Skloot
Henrietta Lacks, as HeLa, is known to present-day scientists for her cells from cervical cancer. She was a poor Southern tobacco farmer who worked the same land as her slave ancestors, yet her cells were taken without her knowledge and still live decades after her death. Cells descended from her may weigh more than 50M metric tons.
HeLa cells were vital for developing the polio vaccine; uncovered secrets of cancer, viruses, and the atom bomb's effects; helped lead to important advances like in vitro fertilization, cloning, and gene mapping; and have been bought and sold by the billions. Yet Henrietta Lacks was buried in an unmarked grave.
The journey starts in the "colored" ward of Johns Hopkins Hospital in the 1950s, her small, dying hometown of Clover, Virginia — wooden slave quarters, faith healings, and voodoo. Today are stark white laboratories with freezers full of HeLa cells, East Baltimore children and grandchildren live in obscurity, see no profits, and feel violated. The dark history of experimentation on African Americans helped lead to the birth of bioethics, and legal battles over whether we control the stuff we are made of.
3. Leviathan by Scott Westerfeld
Prince Aleksander, would-be heir to the Austro-Hungarian throne, is on the run. His own people have turned on him. His title is worthless. All he has is a battletorn war machine and a loyal crew of men.
Deryn Sharp is a commoner, disguised as a boy in the British Air Service. She's a brilliant airman. But her secret is in constant danger of being discovered.
With World War I brewing, Alek and Deryn's paths cross in the most unexpected way…taking them on a fantastical, around-the-world adventure that will change both their lives forever.
4. A Darker Shade of Magic by V. E. Schwab
Kell is one of the last travelers–magicians with a rare, coveted ability to travel between parallel universes connected by one magical city.
There's Grey London, dirty and boring, without any magic, and with one mad King–George III. Red London, where life and magic are revered–and where Kell was raised alongside Rhy Maresh, the roguish heir to a flourishing empire. White London–a place where people fight to control magic and the magic fights back, draining the city to its very bones. And once upon a time, there was Black London. But no one speaks of that now.
Officially, Kell is the Red traveler, ambassador of the Maresh empire, carrying the monthly correspondences between the royals of each London. Unofficially, Kell is a smuggler, servicing people willing to pay for even the smallest glimpses of a world they'll never see. It's a defiant hobby with dangerous consequences, which Kell is now seeing firsthand.
Fleeing into Grey London, Kell runs into Delilah Bard, a cut-purse with lofty aspirations. She robs him, saves him from a deadly enemy, and finally forces Kell to spirit her to another world for a proper adventure.
Now perilous magic is afoot, and treachery lurks at every turn. To save all of the worlds, they'll first need to stay alive.
Poll: