Hey ladies,
A new year has begun, though the holiday season has made me delay writing December's book review, I'm going to at least post this to get the vote going.
Below are the choices and then the poll, choose wisely!!!
1. How To Be a Woman by Caitlin Moran
Though they have the vote and the Pill and haven't been burned as witches since 1727, life isn't exactly a stroll down the catwalk for modern women. They are beset by uncertainties and questions: Why are they supposed to get Brazilians? Why do bras hurt? Why the incessant talk about babies? And do men secretly hate them?
Caitlin Moran interweaves provocative observations on women's lives with laugh-out-loud funny scenes from her own, from the riot of adolescence to her development as a writer, wife, and mother. With rapier wit, Moran slices right to the truth—whether it's about the workplace, strip clubs, love, fat, abortion, popular entertainment, or children—to jump-start a new conversation about feminism. With humor, insight, and verve, How to Be a Woman lays bare the reasons why female rights and empowerment are essential issues not only for women today but also for society itself.
2. Vassa In The Night by Sarah Porter
In the enchanted kingdom of Brooklyn, the fashionable people put on cute shoes, go to parties in warehouses, drink on rooftops at sunset, and tell themselves they've arrived. A whole lot of Brooklyn is like that now—but not Vassa's working-class neighborhood.
In Vassa's neighborhood, where she lives with her stepmother and bickering stepsisters, one might stumble onto magic, but stumbling away again could become an issue. Babs Yagg, the owner of the local convenience store, has a policy of beheading shoplifters—and sometimes innocent shoppers as well. So when Vassa's stepsister sends her out for light bulbs in the middle of night, she knows it could easily become a suicide mission.
But Vassa has a bit of luck hidden in her pocket, a gift from her dead mother. Erg is a tough-talking wooden doll with sticky fingers, a bottomless stomach, and a ferocious cunning. With Erg's help, Vassa just might be able to break the witch's curse and free her Brooklyn neighborhood. But Babs won't be playing fair….
3. The One Hundred Nights of Hero by Isabel Greenberg
In the tradition of The Arabian Nights, a beautifully illustrated tapestry of folk tales and myths about the secret legacy of female storytellers in an imagined medieval world.
In the Empire of Migdal Bavel, Cherry is married to Jerome, a wicked man who makes a diabolical wager with his friend Manfred: if Manfred can seduce Cherry in one hundred nights, he can have his castle–and Cherry.
But what Jerome doesn't know is that Cherry is in love with her maid Hero. The two women hatch a plan: Hero, a member of the League of Secret Story Tellers, will distract Manfred by regaling him with a mesmerizing tale each night for 100 nights, keeping him at bay. Those tales are beautifully depicted here, touching on themes of love and betrayal and loyalty and madness.
4. The Improbability of Love by Hannah Rothschild
When lovelorn Annie McDee stumbles across a dirty painting in a junk shop while looking for a present for an unsuitable man, she has no idea what she has discovered. Soon she finds herself drawn unwillingly into the tumultuous London art world, populated by exiled Russian oligarchs, avaricious Sheikas, desperate auctioneers and unscrupulous dealers, all scheming to get their hands on her painting – a lost eighteenth-century masterpiece called 'The Improbability of Love'. Delving into the painting's past, Annie will uncover not just an illustrious list of former owners, but some of the darkest secrets of European history – and in doing so she might just learn to open up to the possibility of falling in love again.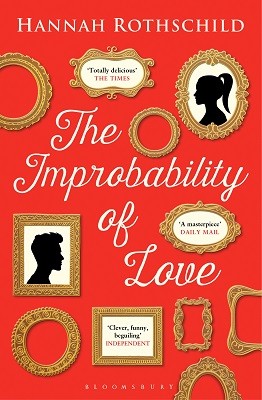 Done!! And with some diversity here, from non-fiction, to fiction, comics and YA. Huehuehue. Below you'll find the poll.
https://docs.google.com/forms/d/e/1FAIpQLSeNM4nS5EBm4xzPMYMTG0KNkBvbVlpZN1LeAy9QdPCEhuZYHw/viewform